5 reasons why real estate signs sell.
What is real estate signage?
Real Estate signage is a form of advertising for many types of properties. They allow the word to be shared when a property is on the market. Real estate signs come in many different styles, depending on the location of where it's being installed. For example, some popular styles that can commonly be found are colonial signs, A-frame signs, V-Shaped signs and more. These signs are high-impact tools that are designed to drive more visits to properties. From increasing awareness about the sale of a property to promoting agencies, this type of signage can easily help buyers find your agency and thus generate leads.
Why are real estate signs important for your real estate agency?
In today's high-tech world, a lot of the focus is on web presence, social media, online advertising and more. While this focus has been proven to show great results in the business world, signage is as important, if not more profitable and can often be overlooked.
If you're looking for a durable, non-intrusive form of advertising and an affordable option that has a good return on investment, real estate signage is a great option. Real Estate signage is great for capturing passerby's attention, it's also wonderful at generating leads and increasing visibility.
Examples of residential real estate signs.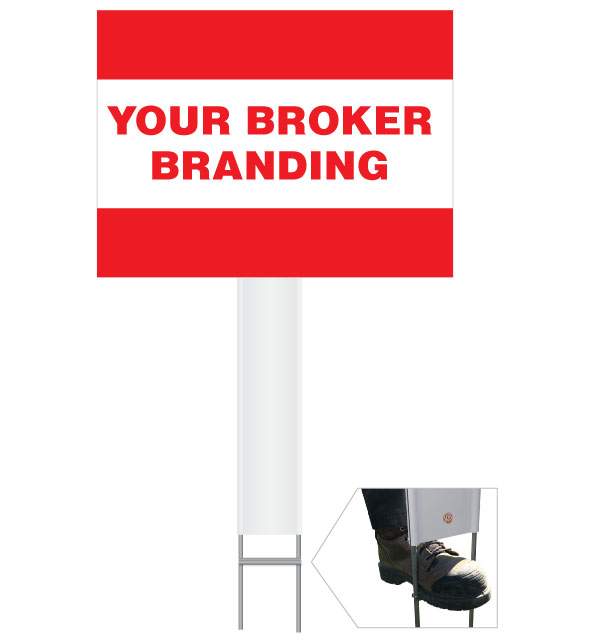 5 Reasons why real estate signs help sell properties.
Visibility – It's no secret that outdoor signage is the most visible form of advertising. So why not take advantage of this? Whether the signage is in a residential area or commercial area, it will capture passerby's attention while out and about. In fact, there has been a study that suggests around 9% of people have found out about their properties from real estate signs.
Build awareness – Real estate signage can immediately inform the public on the properties that are for sale as well as any open house in the area. This type of signage increases awareness towards a real estate realtor and agency as well as can build more awareness around different areas in which hold lots of potential for buyers.
Widen audience reach – With people visiting residential areas or traveling on the roads, the viewing of these signs isn't restricted to a certain audience. Therefore, many individuals can view these signs and can either be interested themselves or share the message to friends and family.
Promote your business – Real estate signs are the most cost-effective form of outdoor advertising per impression, adding immense value when having them placed 24 hours a day for 7 days a week. That sort of exposure can help promote a real estate agency to the public and any accomplishments that the agent or agency have achieved. This can build trust towards the agency and can turn a potential buyer into a paying customer now or in the future.
Shows professionalism – Durable real estate signage that shows a clean design with a simple call to action can project the image of a well organized and qualified realtor. Both buyers and sellers feel better investing their time and money if they're confident dealing with a professional and experienced realtor and real estate agency.
Get your real estate name out there and sell those special properties!
Examples of commercial real estate signs.