5 reasons you need a mobile rental sign.
What is a mobile rental sign?
Mobile signage is a growing area of the advertising and marketing industry. This type of advertising is a great way to connect with potential customers and show them who you are. Mobile signs are designed to help your business attract attention with words, colours, and shapes that reflect your unique style. These portable signs are a high-impact tool that are designed to get noticed at the glance of an eye. From building awareness of new services to promoting sales, these signs are an unbeatable way to grow your audience fast.
Why are mobile rental signs important for your business?
Are you looking to obtain more visibility, increase sales or annonce news about your business? A mobile rental sign is the perfect solution for you! These signs allow you to reach your ideal target audience by placing this portable sign according to your clientele. This type of sign allows you to reach people in different areas where you wouldn't be able to reach them. With this type of advertising your business can connect with clients by showing your brand's personality. Mobile rental signs are great to attract attention, generate business leads, and increase visibility. Another great benefit that comes with mobile rental signs is that they aren't permanent, which allows you to change your message as often as you want. These signs are very cost effective by allowing you to commit to a minimum of 30 days.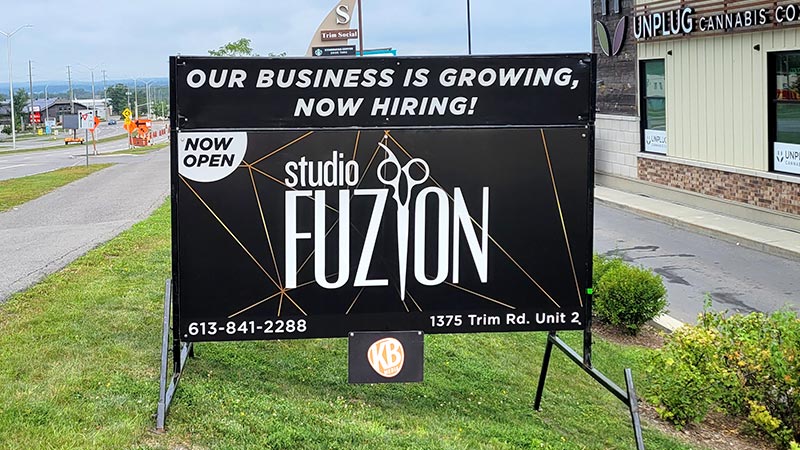 5 advantages mobile rental signs can bring to your business.
Attract potential clients – Mobile advertising can help you get your business in front of the right people at the right time. Showing potential clients why your brand is essential to their lifestyle, which can potentially draw their attention, and possibly their business.
Generate business leads – Mobile signs help spread the word about your business and bring in new customers. This type of sign is more than just advertising, it's a conversation starter. People see it and wonder what kind of business you are, why your sign matters, and they start looking into your business. 
Increase visibility – Mobile signs draw customers to your business. Signs that are placed in high traffic areas create curiosity and brand awareness . Mobile signs is a great marketing tool to advertise the most special parts about your brand, any special announcements, and to attract a large amount of traffic.
Promote your business and sales – The ultimate tool for businesses to show off promotions and their brand itself are portable signs. A vibrant, well-made sign can turn a potential customer into a paying customer.
Build awareness – Mobile rental signs are a great way to reach potential customers that may not even know your business exists. Mobile signs are the best way to get your business name out there, while allowing you to capture leads and grow your customer base.
More tips to reach maximum visibility with a mobile rental sign.
Locate your sign in a high traffic area
Keep your design simple
Make sure that the sign represents your brand
Include a call to action
Make sure your logo is visible from afar and includes a short and strong message
Mobile advertising is a simple, yet effective way to increase brand awareness and reach potential customers. They make a lasting impression on the viewer. Mobile rental signs allow you to show potential clients how your brand fits into your target audience's life.
Want to advertise how special your business is and generate business leads?