How to bring your business to life with wall graphics?
What are wall graphics and what do they consist of?
Wall graphics are essentially a big sticker being used to cover and decorate a wall. The great thing about vinyl is it has a no-fuss approach that lets you change designs as often as you like;  just swap out your design for another one at any time. From colourful murals to intricate designs, wall decals can transform a bland wall into a stunning focal point of your business. Wall graphics bring your brand to life; they allow you to express your business' personality and communicate an aesthetic through design. Businesses who incorporate wall decals in their marketing strategy, can enhance the atmosphere of their business, create a unique experience for customers, and project a professional image.
How can wall graphics change your business' environment?
Wall graphics have a significant impact on the office environment, making it possible to create a home environment for your business. Wall wraps allow you to put graphics that represent your brand's personality and values; creating a company culture. This is crucial for the well-being of both your customers and employees. It brings a new energy to the office and promotes employee and customer satisfaction. Wall wraps also help create a positive environment where employees can connect with customers, creating an overall memorable experience. Wall graphics have the ability to inspire as much customers and employees, which creates a very strong company environment.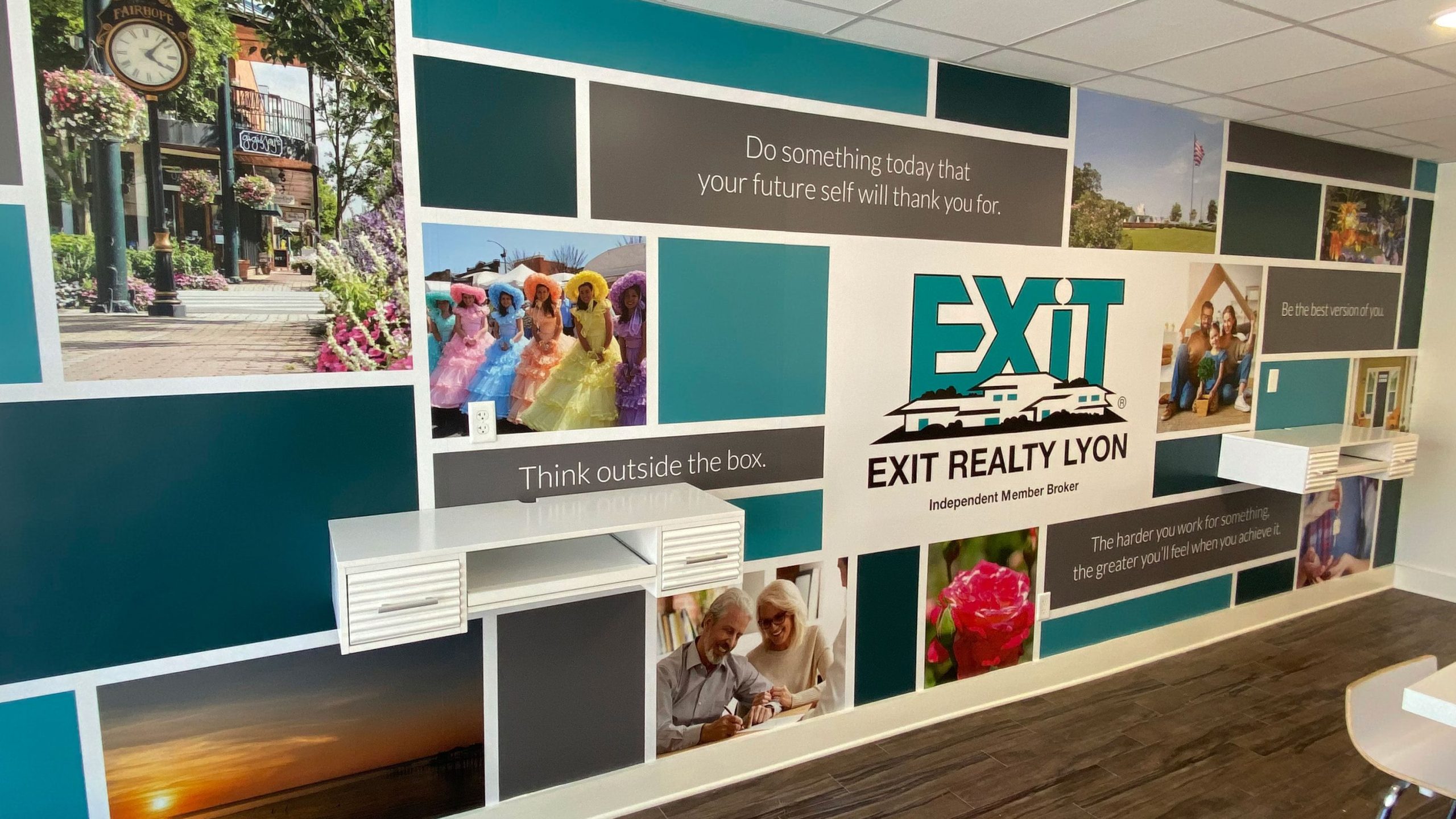 5 advantages that wall graphics will bring to your business.
Company culture: Wall graphics are a fantastic way to provide your employees with a sense of pride, as well as a welcoming touch for your clients! The ability to creatively express yourself is one of the best perks of working in an office and personalization is an essential key to company culture.
Creates a home for your brand: The office space is often where your brand is presented to the public. When a customer enters an office, they can get a clear glimpse of the brand. A well-designed office space will make an impression that lasts, and it allows the opportunity to have clients experience and understand your company's values and identity.
Lasting impression: Wall graphics are an excellent way to engage consumers and leave a lasting impression by spreading your brand's message. Not only do they allow you to leave your brand's message in someone's mind, but they also offer an opportunity to show off your creativity and your business' personality. Wall wraps give companies the ability to go above and beyond to connect with clients, it's an opportunity to speak to your audience. 
Professionalism and reinforces your brand: Wall wraps and decals are not only aesthetic elements, they help create an office atmosphere that is in line with the company vision. A well-designed wall wrap gives the space a professional look and feel which will strengthen perspectives of the company.
Client and employee relations: Wall wraps and decals create a stronger bond with customers by helping them to understand the brand, its values, and overall goals. This marketing opportunity is a powerful tool that allows businesses to communicate a meaningful message; building stronger relationships.
More ways to uplift your office with wall wraps.
Being creative.
Graphics that show brand personality.
Ability to change the design as you please.
Speak to your audience with graphics.
Wall graphics are a powerful and practical business tool that has the ability to transform the walls of your business and create a unique, memorable experience for your company. Wall graphics can add personality to the office, uplifting the overall company environment.
Let's transform your office wall into an advertising canvas!